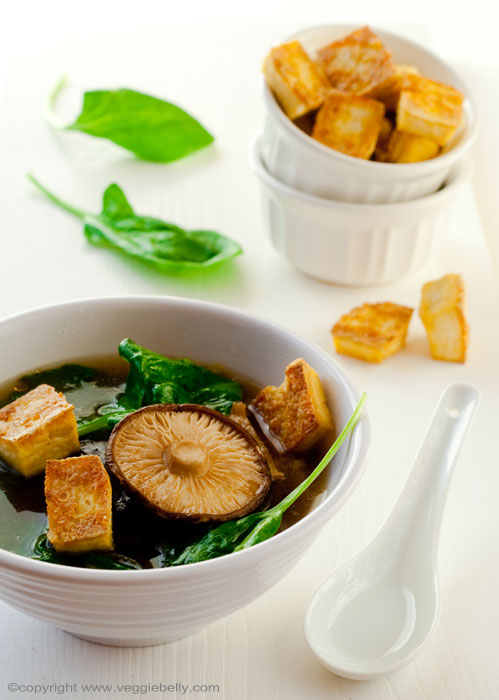 Spinach and Shitake Mushroom Soup with Crispy Baked Tofu Croutons
serves 4-6
Ingredients:
2 oz dried shitake mushrooms
1/2 tbsp canola oil
2 leeks, chopped thinly and washed
3 tbsp garlic paste
3 tbsp ginger paste
8 cups water, vegetable stock or mushroom stock
3-4 tbsp soy sauce or tamari
2 tbsp rice wine vinegar or lemon juice
2 tbsp sesame oil
1 tbsp sriracha or chili paste
1 large bunch of fresh spinach, washed
Salt (keep in mind soy sauce and stock are already salty)
Directions
:
Soak dried shitake mushrooms in 3 cups of boiling water for about 10 minutes. Heat oil in a soup pot. Add leeks and saute on high heat till leeks are soft. Then add ginger and garlic pastes and cook for about 2 minutes. Removed shitake mushroooms from the boiling water, reserve the soaking liquid. Squeze out some of the water and cut the larger mushrooms into half. Add the mushrooms to the leeks, ginger and garlic and saute on medium-high heat for about 1 minute.
Add 3 cups of the mushroom soaking liquid and 8 cups stock to the soup pot. Bring to a boil. Then reduce heat and simmer for about 6 minutes. Add the soy sauce, vinegar or lemon juice, sesame oil, spinach, salt and immediately turn off heat. The fresh spinach will wilt into the soup and doent need any more cooking. Taste and adjust soy sauce, vinegar or lemon juice and sriracha. Serve with tofu croutons on top. For a more filling meal, add some cooked rice noodles or vemicelli to the soup. If you like thicker soup, mix 3 tbsp of corn starch with a little water and add this to the soup at the end, but before adding spinach. Bring the soup with the corn starch slurry to a boil and then turn off heat. This will thicken the soup.
Tofu Croutons Recipe
Ingredients:
1 block (19 oz) firm tofu
1 tbsp canola oil
1 1/2 tbsp corn startch
salt and pepper
other optional seasonings – garlic powder, onion powder, cayenne, paprika
Directions
:
Heat oven to 375 f. Drain tofu and pat dry. Cut tofu into 1/2 inch cubes. Toss tofu cubes with corn startch, salt and pepper. Drizzle oil over the tofu cubes. Place on a non-stick baking sheet (or a baking sheet lined with silpat or parchment). Bake for 45 minutes or untill the tofu croutons are golden. If using any of the optional sesaoning listed above, remove tofu from oven 10 minutes before end of baking time and toss the croutons with sesaonings, return to oven. Let tofu croutons cool a little before removing them from the baking sheet. Serve with soup.
credit:
http://www.veggiebelly.com/2009/11/spinach-shitake-soup-tofu-croutons.html
......................................................................................................................................................